ICF HK CHAPTER HAPPY HOUR – Pause and Relax: A Relational Mindfulness Experience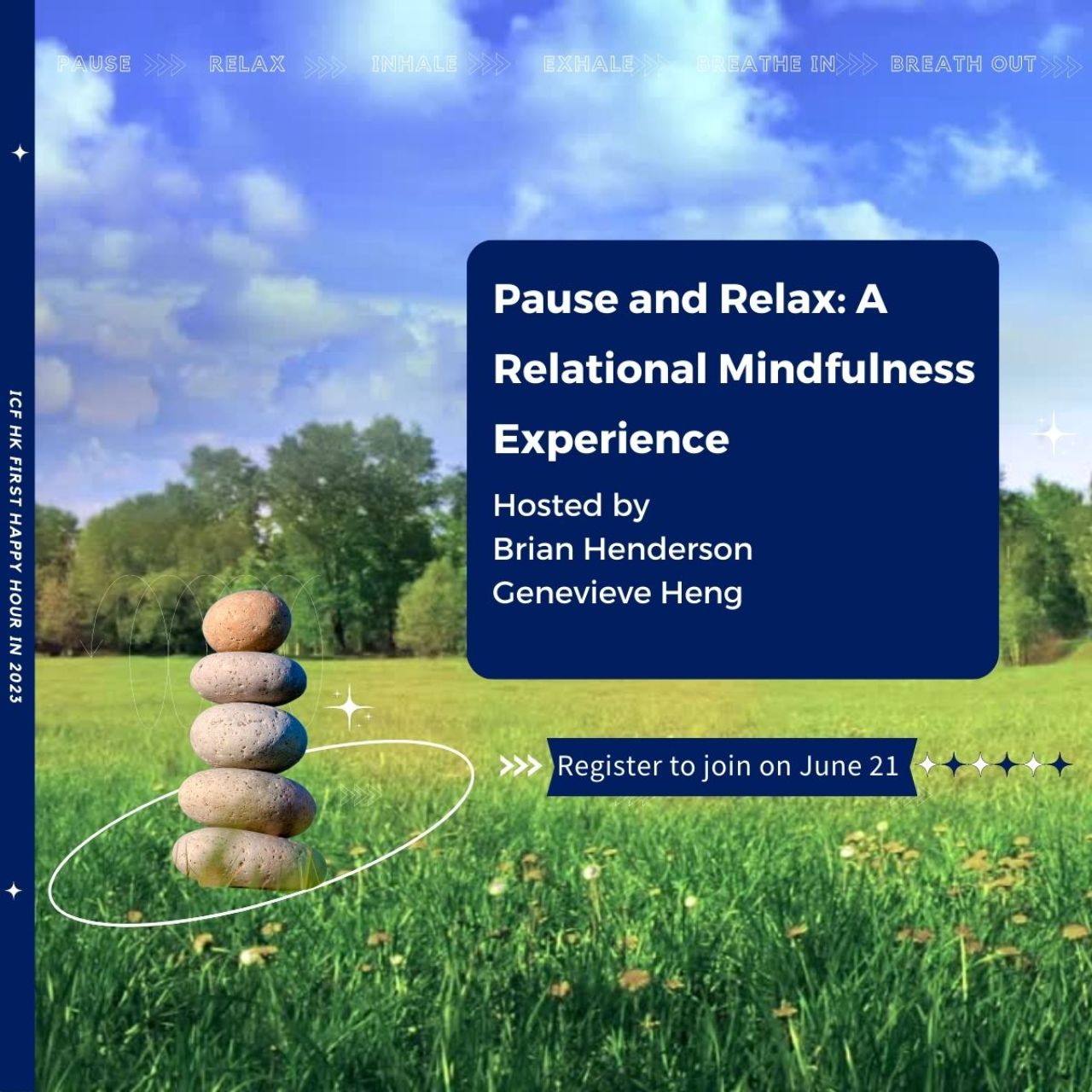 How can we maintain mindfulness while tending to our inner experience while engaging with others?
Are you interested in learning how to stay relaxed while remaining aware and responsive in our interactions?
How can we achieve a greater balance between our head, heart, and body?
Relational mindfulness takes mindfulness beyond the meditation cushion and into our daily lives and relationships. When cultivated, it supports a greater sense of presence, embodiment, integration, self-awareness, and responsiveness. Join us for an enlightening session with our guest facilitators, Brian Henderson and Genevieve Heng, as they provide a taste of the transformative power of pausing and relaxing through relational mindfulness.
Regardless of whether you have prior experience with mindfulness, this session will offer you a glimpse into how mindfulness can benefit you as a coach. It will help you take care of yourself and enhance your coaching skills and personal development.
The session will commence with a brief guided meditation and include relational mindfulness practices in small groups. We kindly request that you join us from a quiet location with your video on, as it will contribute to a mindful, settled, and safe relational environment for our practice. To ensure an optimal experience for all participants, latecomers will not be admitted after 6:45 pm.
About Brian Henderson:
Brian is a catalyst for leaders, enabling them to create high-performing teams by fostering a culture where everyone can thrive. With his expertise in yoga teaching, relational mindfulness, and over 30 years of leadership experience in the legal industry, Brian is also a social innovator who has established mental health support groups, Male Allies, and MoveMEN! initiatives. To learn more about Brian's background, visit here.
Brian is the Founder of Whole Business Wellness, where he assists clients in building thriving workplaces that prioritize wellness and sustainable performance.
About Genevieve Heng:
Gen is a mindfulness teacher and relational mindfulness facilitator. With a background as a medical doctor and HR leader, she combines a science-backed and experiential approach to mindfulness with practical, real-world applications in personal growth, well-being, leadership development, and taking effective action. Gen has a particular interest in working with professionals in "people-oriented" fields such as coaches, healthcare and social work professionals, and corporate leaders.
To delve deeper into Gen's background, please visit here. She is a qualified Mindfulness Meditation Teacher certified by the Awareness Training Institute and UC Berkeley. Additionally, she holds an Accredited Organisational Coach, Level Three, certification from the Institute of Executive Coaching and Leadership (IECL).
Don't miss this opportunity to experience the benefits of pausing and relaxing through relational mindfulness. Join us for an enriching Happy Hour session that will leave you with valuable insights and practical tools to enhance your coaching journey.
Date: Tuesday, June 21 2023
Time: 6:30 pm – 8:00 pm
Venue: Online (Zoom link will be provided upon registration)
We look forward to seeing you there!