Team Coaching: Basics and Beyond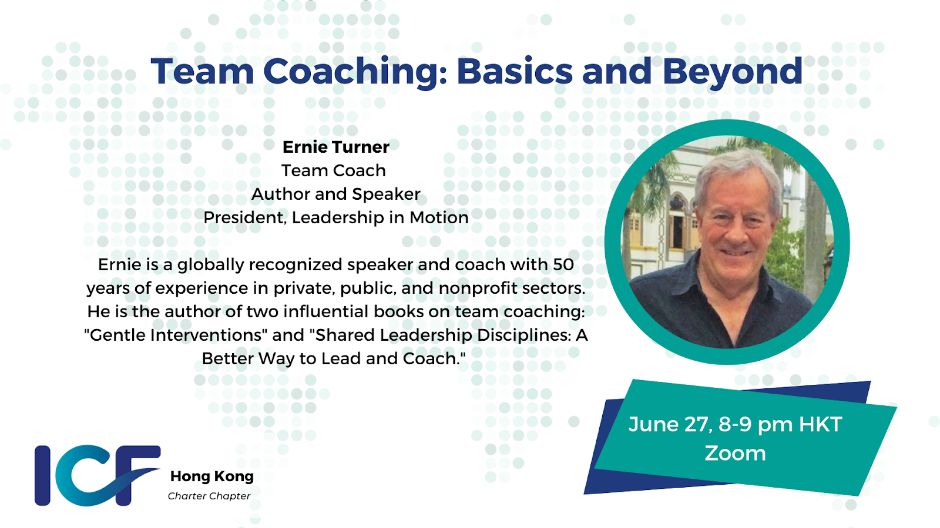 Join us for a captivating session on Team Coaching: Basics and Beyond, featuring speakers Ernie Turner, Pam Birkett, and Lisa Sha, on 27th June 2023 at 8 pm.
Team coaching has been gaining immense popularity lately, and it's time to explore why! What exactly is team coaching? Who can benefit from it? Find answers to these burning questions and gain valuable insights during this enlightening session.
Ernie Turner, a globally recognized speaker and coach with extensive experience across private, public, and nonprofit sectors, will share his expertise. With two influential books on team coaching under his belt, "Gentle Interventions" and "Shared Leadership Disciplines: A Better Way to Lead and Coach," Ernie is a true authority in the field
Pam Birkett is a Leadership In Motion (LIM) Certified Coach since 2004 and the HK representative of LIM, a global consulting company with over 30 years of experience co-designing and delivering organization development solutions to business challenges and opportunities using Action Reflection Learning (ARL) methodology.
Lisa Sha, an ICF HK Board member and Shared Leadership Team Coach, will bring her expertise to the table. Having facilitated national, regional, and global teams for over 10 years, Lisa is experienced in maximizing team performance and cultivating stronger relationships.
Don't miss out on this incredible opportunity to discover the transformative power of team coaching for yourself, your teams, and your organizations. Register now to secure your spot and embark on this enlightening journey with us. Register today.