Thought Leadership Discussion on AI and Coaching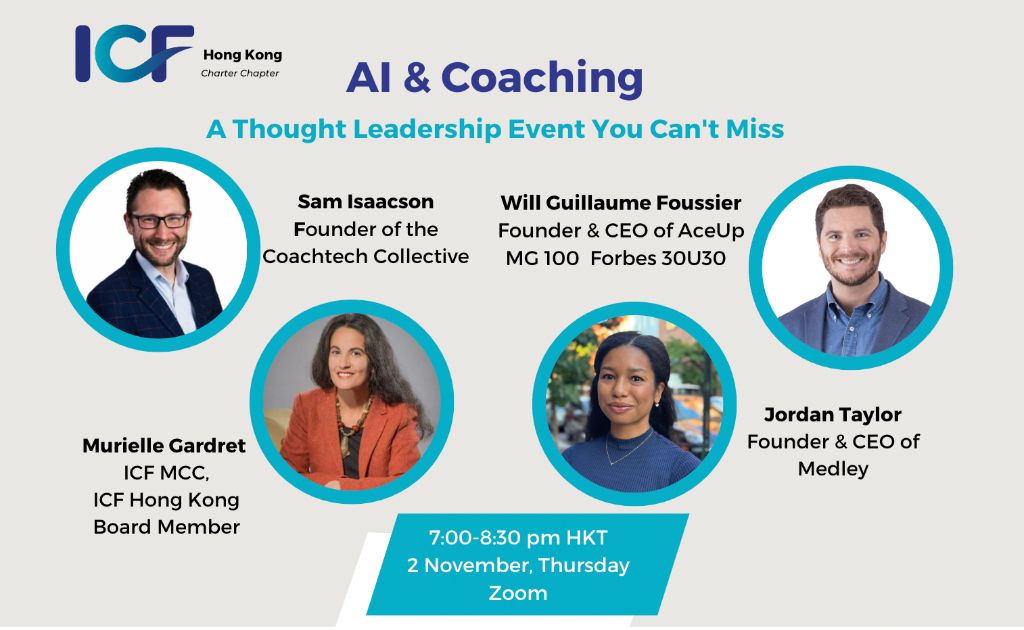 🚀 Join Us for a Thought Leadership Discussion on AI and Coaching! 🤖
Artificial Intelligence is transforming every profession, including coaching! We're thrilled to announce our upcoming Thought Leadership event on November 2, where we'll delve into the AI evolution and its profound impact on the coaching landscape.
🎙️ Meet our distinguished speakers:
1️⃣ Jordan Taylor, Founder & CEO of Medley – A cutting-edge coaching platform.
2️⃣ Sam, Founder of Coachtech Collective – Leading a global community of coaches exploring technology's role in coaching; Author of "How to Thrive as a Coach in a Digital World" and "Superhuman Coaching."
3️⃣ Will Guillaume Foussier, Founder & CEO of AceUp – MG 100 | Forbes 30U30 | Harvard Alumni | TechStars Alumni.
4️⃣ Murielle GARDRET, ICF MCC, ICF Mentor Coach, IEA Accredited Professional Enneagram, ICF HK Board Member, Keynote Speaker.
In this enlightening session, our experts will tackle crucial questions:
✅ How extensively is AI being integrated into coaching today?
✅ What will coaching sessions of the future look like in an AI-driven world?
✅ How do clients and stakeholders benefit from AI-enhanced coaching?
✅ Exploring the ethics of AI in coaching.
Don't miss out on this opportunity to gain insights from industry leaders. Register now for this compelling discussion!
🌐 Topic: The Future of Coaching: AI Revolution & Expert Insights!
📅 Date & Time: November 2, 2023, Thursday, 7:00 PM – 8:30 PM (HKT)
🌟 CCE Credits: Attending the full event qualifies you for 1.5 CCE credits for Resource Development.
💼 Fees: Complimentary for ICF members; non-members are welcome with with a fee of HKD 100
✨ Format: Zoom meeting
Join the conversation and stay at the forefront of coaching in the AI era. Register