ICF HK Happy Hour: Ontological Coaching and Leadership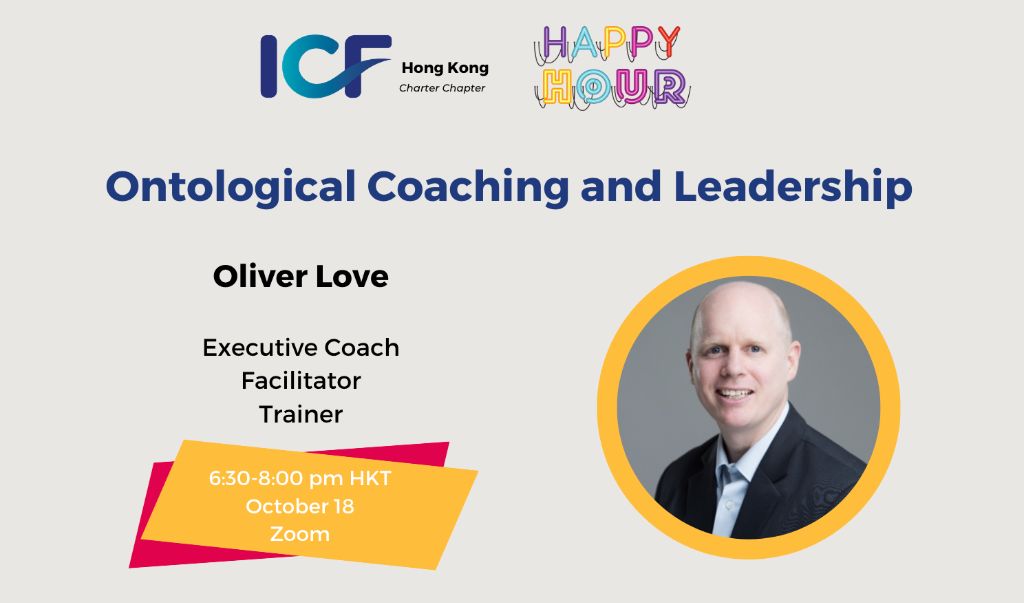 Are you ready to dive into the fascinating world of Ontological Coaching and Leadership? 🚀
Join us for an engaging talk with Oliver Love as we explore the transformative power of the Ontological approach to Coaching and Leadership. This event is designed to benefit a wide range of individuals, including existing and aspiring coaches, organizational consultants, leaders, managers, and anyone interested in personal development.
During this interactive session, we will:
✨ Uncover the unique aspects of the Ontological approach and its impact on coaching and leadership.
✨ Dive into fundamental ontological coaching practices to provide you with a hands-on experience that complements your existing coaching skills.
Key areas of exploration:
🔍 Gain a deeper awareness of how you show up in language, mood, and physiology, leading to new insights about your behavior's impact on yourself and others.
🛠️ Experience practical tools and insights into their use, interconnectivity, and applicability in various situations.
⏳ Learn how being observant in the moment allows you to make different choices and achieve new outcomes.
🌐 Topic: Ontological Coaching and Leadership
📅 Date & Time: October 18, 2023, Wednesday, 6:30 PM – 8:00 PM (HKT)
💼 Fees: Free for ICF members and non-members
✨ Format: Zoom meeting
Join us to share experiences and discover the immense value and depth of learning that the ontological approach to coaching and leadership can offer.
Don't miss out on this opportunity to expand your coaching and leadership horizons! 🌠